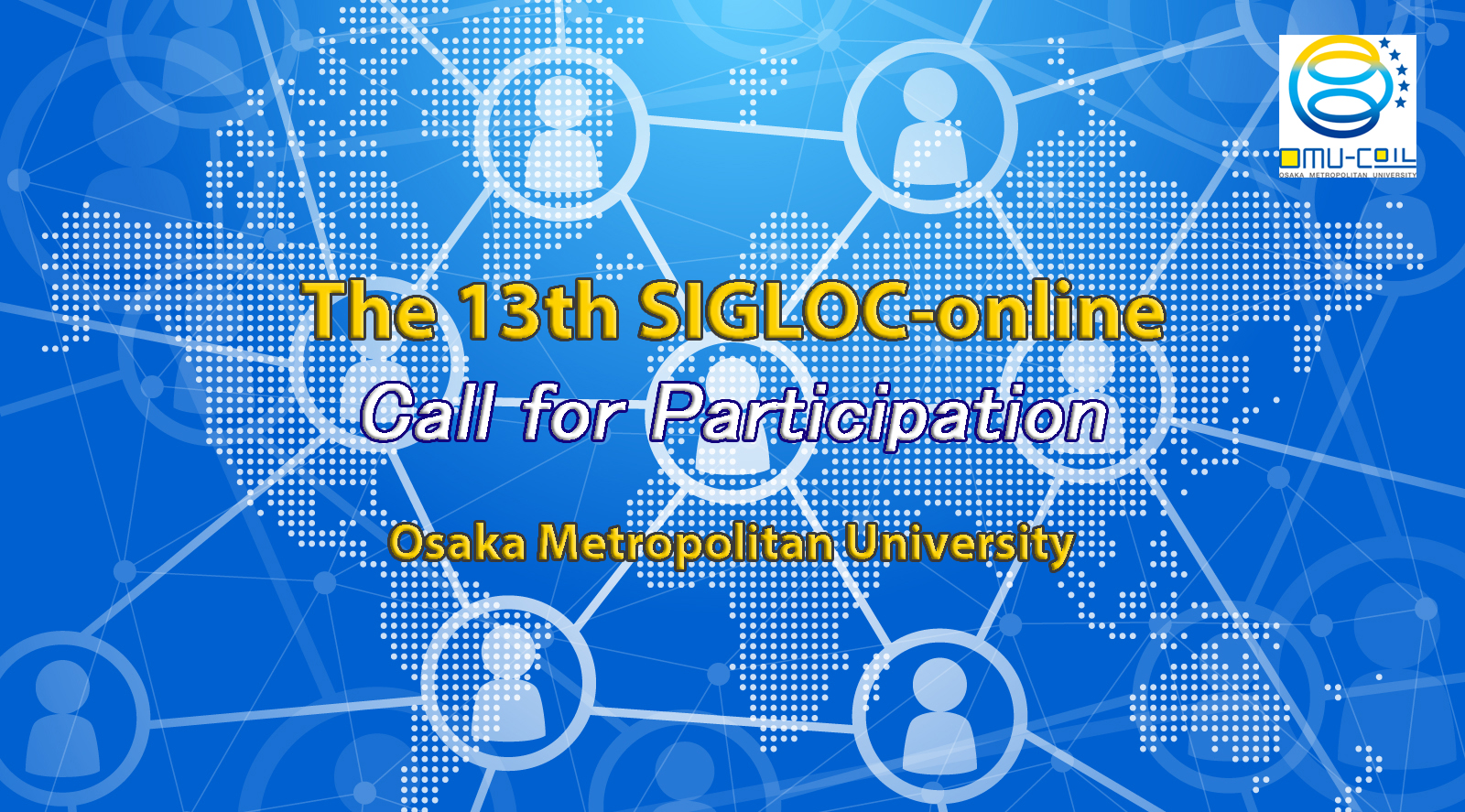 [CLOSED] The 13th SIGLOC-online (Socially Innovative Global Online Classroom: Online)
13th SIGLOC-online
[Socially Innovative Global Classroom: Online]
5 – 23 September 2022, for 3 weeks

★ Application Closed ★
Registration for the 14th SIGLOC-online
will open on September 1, 2022!

.
Theme
SDGs: Social Innovation in your Local Community toward Solving Global Issues
・Circular economy and local supply chain
・Civic pride and local community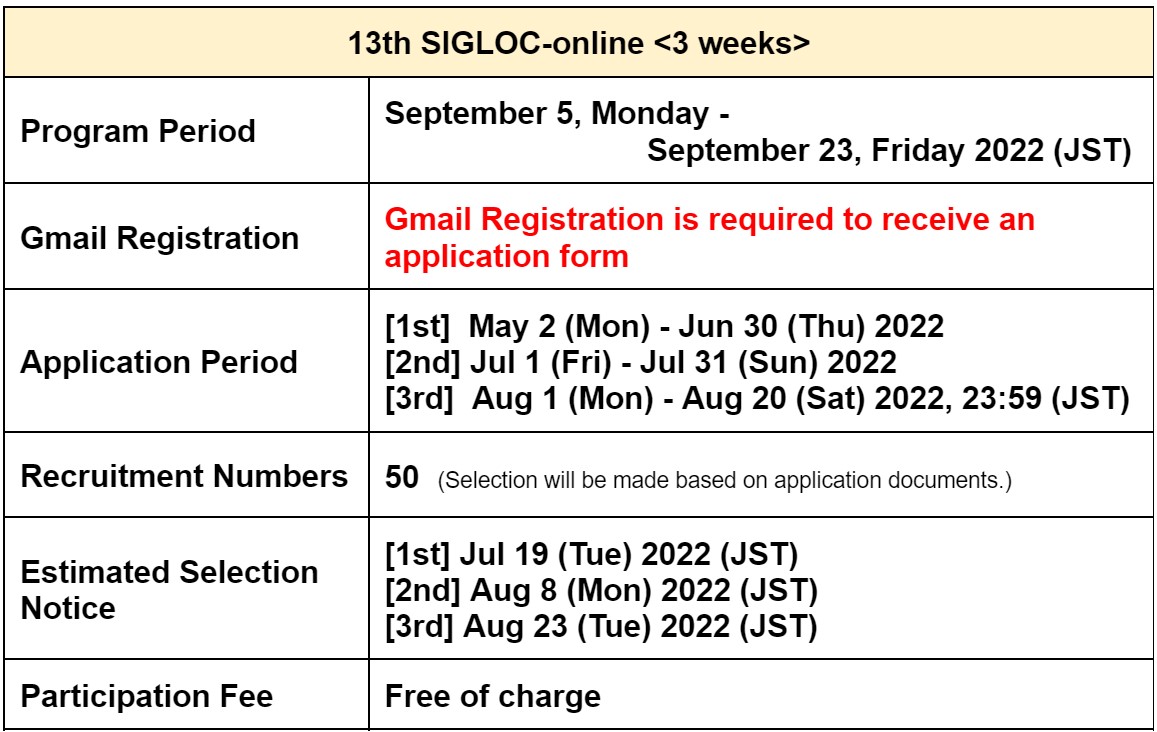 .
Dear all university students around the world
Why not join the program and learn online with students from all over the world?
.
As a school selected for the FY 2018 Inter-University Exchange Project of the Ministry of Education, Culture, Sports, Science and Technology, Japan, Osaka Metropolitan University – OMU – (formerly Osaka City University) is implementing a Program to Develop Collaborative Social Innovators that uses Collaborative Online International Learning (COIL).
In this program, OMU offers Socially Innovative Global Classroom (SIGLOC) which is a collaborative educational program with overseas students.
.
SIGLOC is an intensive program in which students from different countries around the world work in "the field", share their experiences, exchange opinions from different perspectives, and collaborate to create solutions to social issues.
.
Since 2020, OMU has conducted entirely online programs entitled SIGLOC-online to provide the opportunity of international education unaffected by COVID-19.
.
We are now calling for participants to the 13th SIGLOC-online!


Application closed.


Please read the Application Guidelines for more details.



.
Join us for the intensive collaborative online educational program with overseas students!
We are looking forward to "meeting" you online!
.
.
.
Characteristics of the SIGLOC-online
● ICT tools for SIGLOC-online: Zoom, Slack and Google Drive
● 100% online (All students/instructors will participate remotely from their own places during the entire period)
● Collaborative and active learning with multi-national participants (students from two countries or more per group)
● Interaction with other participants in every session whether synchronously or asynchronously
● Conferral of a Certificate of Completion to the participants who meet the prescribed requirements
.
.
Qualification Requirements
● For the 13th SIGLOC-online, undergraduate or graduate students that are currently enrolled in a university except for those in Japan.
● Those who understand the purpose of this program and are enthusiastic about participating.
● Sufficient English communication ability is required for non-native speakers of English.
● Those who can participate throughout the entire program.
● Those who can make use of a PC [not a mobile phone*] to work / study in this program
*A mobile phone does not have enough capacity / functions to work collaboratively with other students.
● Those who can use an unlimited Internet network during the program, or those who can use a pre-paid Internet network and bear its cost for the program.
● Those (students) who can obtain approval to list their university's faculty member or an advisor from their university as a reference.
● A student under the legal age of his / her country (e.g., 18 years old for Japanese students) needs to obtain the consent of his / her parent(s) or legal guardian.
● Those who can sign the agreement form after carefully reading the application form and the application guidelines.
.
How to Apply
*Please read the Application Guidelines carefully before registration.
Step 1: Register your Gmail address 
●You need to register your Gmail address which will be used in SIGLOC-online via Gmail Address Registration Form.
.
Step 2: Receive an Application Form via email
●After registering your Gmail address from the form, we will send a URL of the Application Form to the registered Gmail address.
.
Step 3: Submit the Application Form (Final deadline: August 20, 23:59 JST)
●You need to fill all the information required in the Application Form.
●The application must include a minimum 150-word statement of purpose and a minimum 300-word essay.
.
Inquiries
COIL Promotion Office, Osaka Metropolitan University, Japan
Email: gr-las-coil_@omu.ac.jp    Inquiry form
SIGLOC Website: http://www.coil.osaka-cu.ac.jp/en/training/
.
FAQ
We have received various inquiries from students who are interested in this SIGLOC-online program.
Please, check HERE for frequently asked questions and answers.
.
About SIGLOC
.
To Educators and/or Officers of
International Students Affair:
If your school is interested in
participating in SIGLOC-online
as a part of class or special course,
please
contact us
.
Leaflet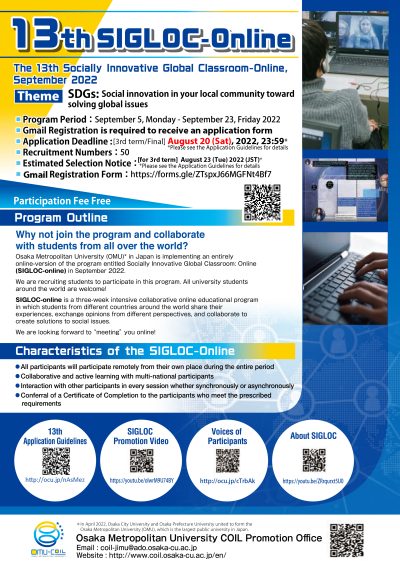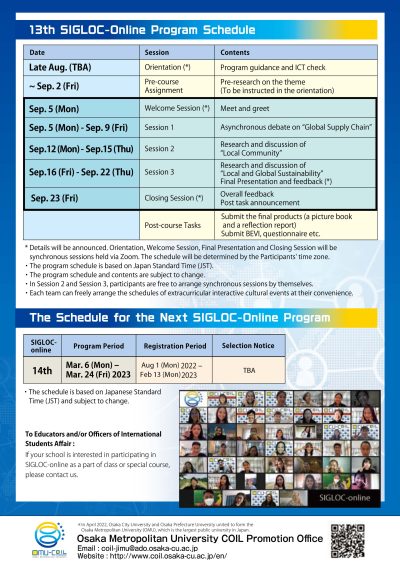 .
---
In April 2022, Osaka City University and Osaka Prefecture University merged into a new university―Osaka Metropolitan University (OMU), which has become the largest public university in Japan.