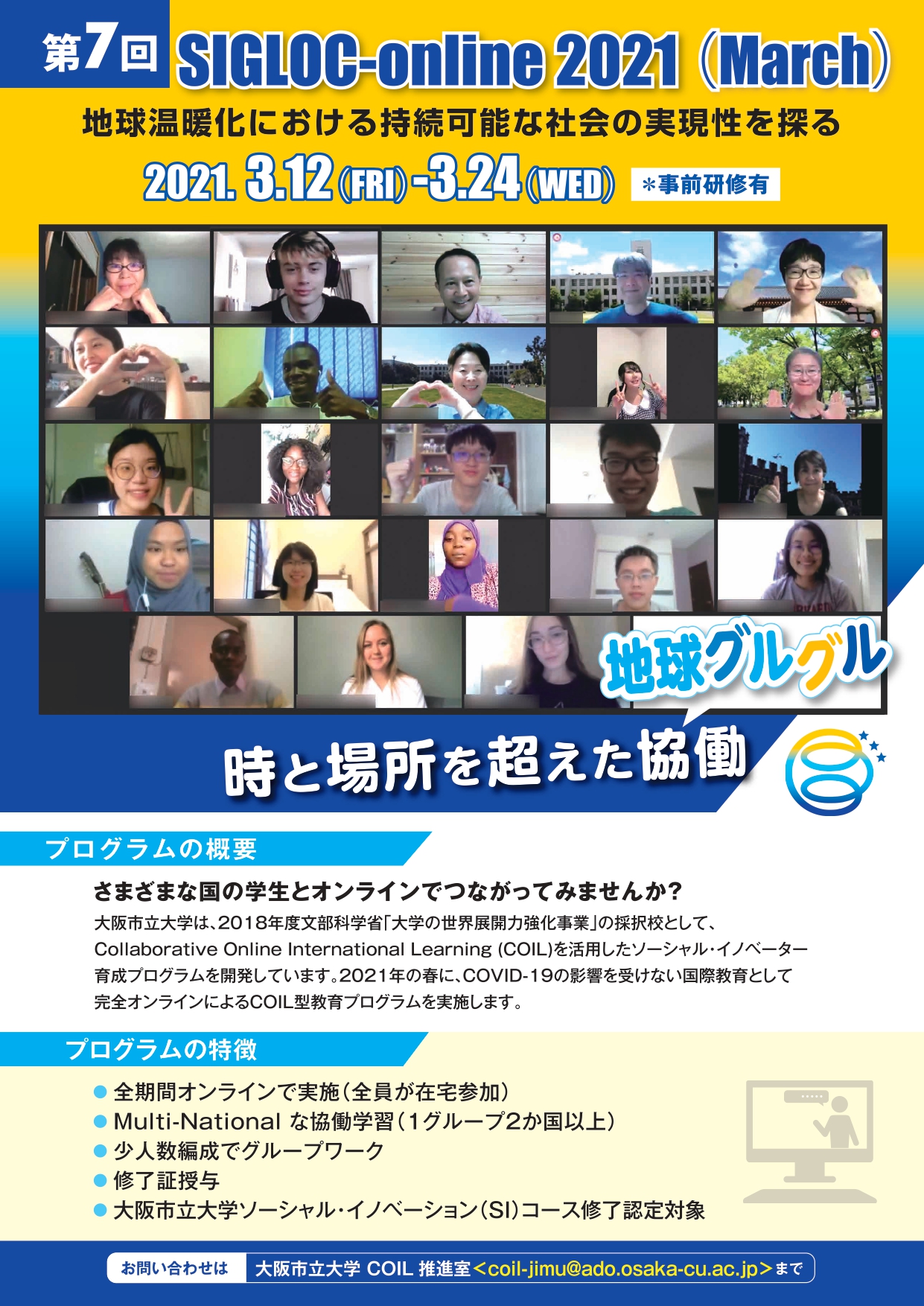 [Application closed] Call for SIGLOC-online 2021 (March)
The 7th SIGLOC-online 2021(March)
Jan.04,2021 updated   Application Form
##########################
Application closed
Application Guidelines-> DOWNLOAD
Application Form ->  click
##########################
Exploring the Feasibility of a Sustainable Society in Global Warming
2021.March.12(FRI)-March.24(WED) *Pre-course guidance provided
Around the Globe, Around the Clock
〜 A Collaboration beyond time and Place 〜
Program Outline
Why not join the program to connect with students from different countries and learn online?
As a school selected for the FY 2018 Inter-University Exchange Project of Ministry of Education, Culture, Sports, Science and Technology, Japan, Osaka City University (OCU)  is implementing a Program to Develop Collaborative Social Innovators that uses Collaborative Online International Learning (COIL). In the spring of 2021, OCU will conduct an entirely online program entitled Socially Innovative Global Classroom: Online (SIGLOC-online) to provide international education unaffected by COVID-19.
Characteristics of SIGLOC-online 2021(March)
○   100% online (all students/instructors will participate from their own places during the entire period)
○   Multi-national, collaborative learning (students from two countries or more per group
○   Teamwork within small groups
○   Conferral of a Certificate of Completion
○  This is a subject to qualify for the Social Innovation course completion certification offered in Osaka City University. (OCU students only)
Program Schedule
Date
Japan Standard Time
Content
Orientation
February 26th
For OCU/OPU Student only
Checking participants' online
application environments and
usage:Zoom,Google Drive,
Slack etc.
Pre-Course
Guidance
March 5 (Fri)9:00am~11:00am
(JST)
March 5 (Fri)5:00pm~7:00pm
(JST)
March 6 (Sat) 1:00am~3:00am
(JST)
Explanation of SIGLOC's purposes,
pre-assignments.
*Attend the session at one of the
times listed on the left
Program Sessions
March 12 (Fri)9:00am~11:00am
(JST)
March 12 (Fri)5:00pm~7:00pm
(JST)
March 13 (Sat) 1:00am~3:00am
(JST)
Opening Session
Greeting & Cultural Session
Group・Management
*Attend the session at the ASSIGNED time
March 12(Fri)-March 16(Tue)
Basic Research
Data Collection
Organizing issues
March 17(Wed)-March 20(Sat)
Building Hypotheses&
Verification
Field Research
March 21(Sun)-March 24(Wed)
SI Report
Final Report Session &
Completion Ceremony
Arrange/manage the time for individual work within the group besides the synchronous meeting.
Application Requirements
Recruitment numbers: 23 (Selection will be made if there are many applicants)
Program Participation Fee:Free
Deadline:February 12 (Fri), 2021, 17:00 (JST)
Eligibility for Application:
●   Undergraduate or graduate students who are currently enrolled in a University
●   Those who understand the purpose of this program and are enthusiastic about participating
●   Those who understand the purpose of this program and are enthusiastic about participating
●   Those who can participate during the entire program
●   Those who can sign the agreement after carefully reading the application form and the application guidelines
SIGLOC-online Information Session
Introduction by professor Nakajima
SIGLOC-online 2020(August)
Voices from the previous program attendees