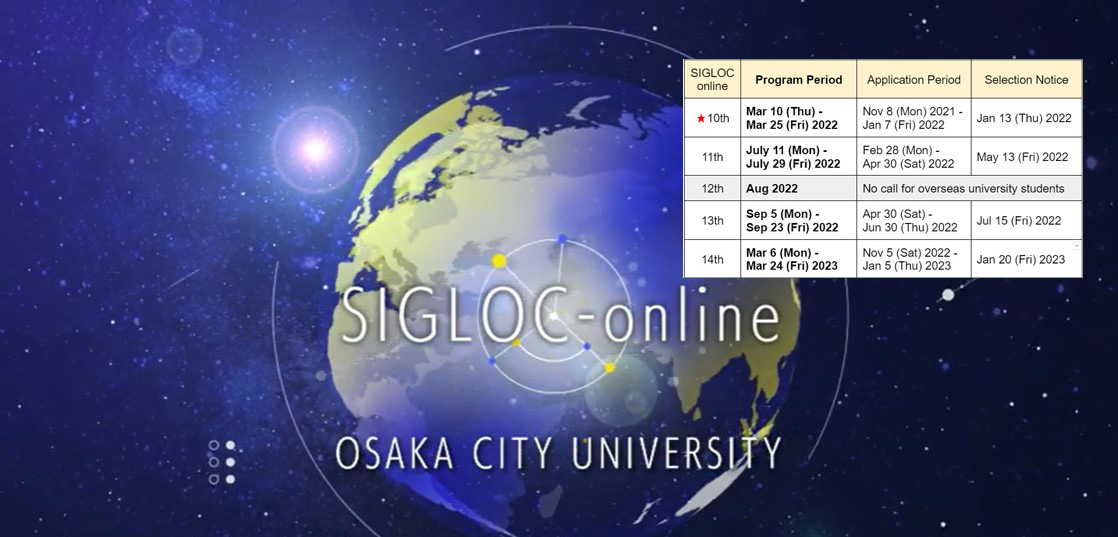 The schedule for SIGLOC-online (Socially Innovative Global Classroom: Online) Programs in 2021-2022

The schedule for the SIGLOC-online 2021-2022 has been announced!
.
"SIGLOC" is a two/three-week intensive course, hosted by Osaka City University in Japan, in which students from all over the world work online on social issues to find creative solutions together.
.
All university students around the world are welcome!
The participation fee is free.
.
This program aims to yield people who are self-motivated, creative problem-solvers that find solutions to issues that involve, but are not limited to, the government, NPOs or corporations in the future.
.
We are recruiting students to participate in these programs.
We are looking forward to your participation!
* The schedule, venue, and implementation method are subject to change.
* The schedule is based on Japan Standard Time (JST).
* An application form will be open on this website on the first day of each application period.
* No call for overseas university students for the 12th SIGLOC-online.
* The program period for the 14th SIGLOC has been amended to be Mar 6 instead of Mar 9.
.
★Now we are calling for participants for the 10th SIGLOC-online.




Please visit

HERE

for an application.
.
---
● Program Outline
As a school selected for the FY2018 Inter-University Exchange Project of the Ministry of Education, Culture, Sports, Science and Technology, Japan, Osaka City University (OCU) is implementing a Program to Develop Collaborative Social Innovators that uses Collaborative Online International Learning (COIL).
.
OCU has implemented an entirely online-version of the program, entitled Socially Innovative Global Classroom: Online (SIGLOC-online) since March 2020.
.
● Purpose of the SIGLOC Program
The purpose of this program is to cultivate social innovators. Social innovation refers to solving social problems through new products, services and systems. By collaborating with students from other countries, the program will cultivate the ability to "discover issues" and the ability to "find solutions", and train people who possess the ability to "implement those solutions".
---
.
●Past SIGLOC-onlines
The 9th SIGLOC-online Report -> click
The 8th SIGLOC-online Report -> click
.
●Voices from the previous program attendees
Report -> click
Video -> click
.
●More details about SIGLOC -> click
.
[Inquiry] -> click