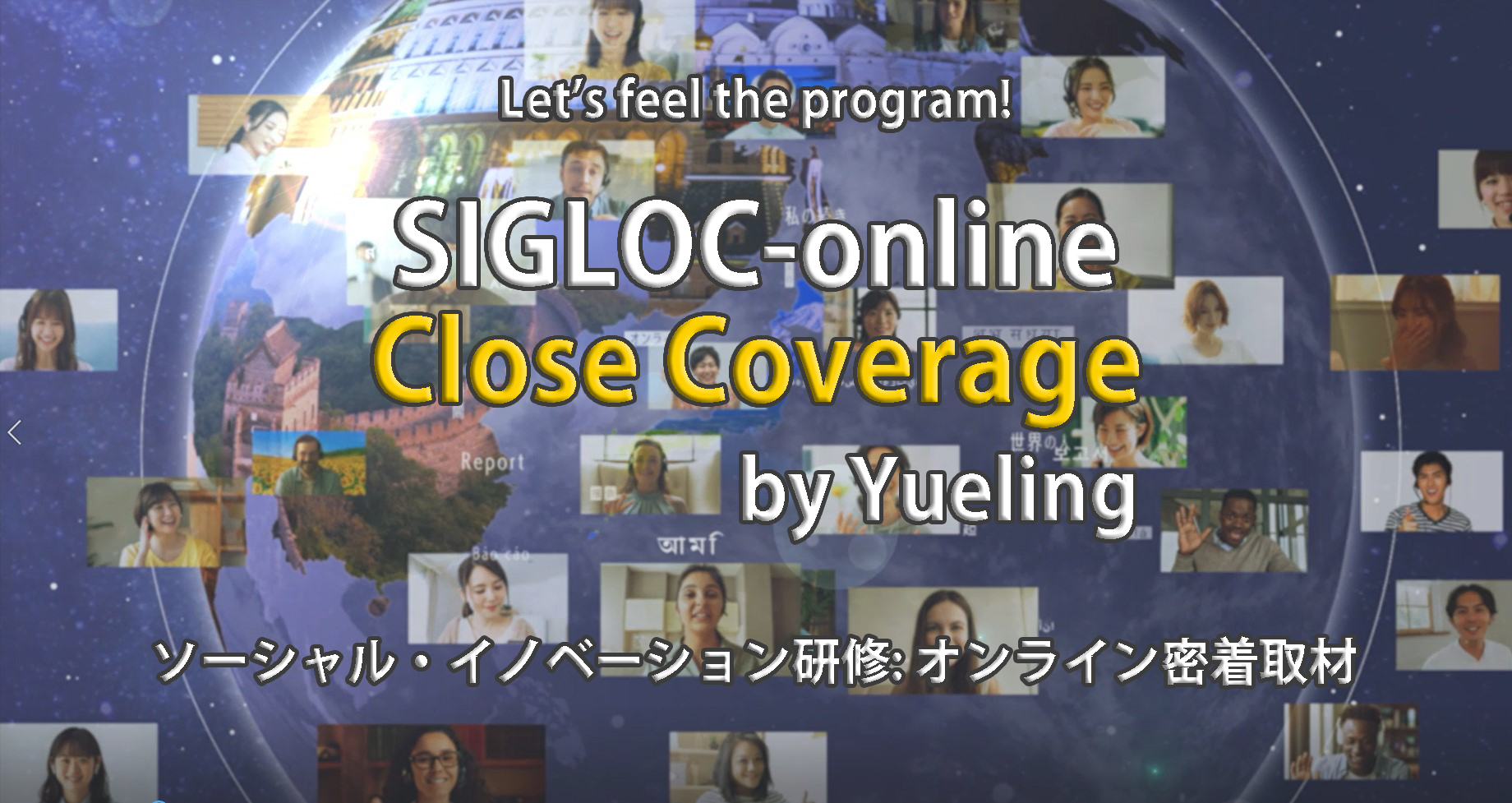 SIGLOC-online Close Coverage by Yueling
Hi everyone, my name is Yueling and I am the promotion assistant for the 10th SIGLOG-online.

I spent the most colourful month interviewing all the participants for their genuine experience with SIGLOC-online, and I hope you can enjoy it with us by reading this blog as well.
.
# Introduction
It's time for the 10th SIGLOC-online with Osaka City University!
.
Some may say an online program has less fun without seeing people in person, I say an online program gives you more opportunities to meet with people you never thought of before.
.
This time, we have over 100 students enrolled in the SIGLOC-online, from 41 countries and regions including several continents. What's more exciting than learning about people on the other side of the world's hobbies, cultures and lifestyles!
# Orientation
An informative introduction is always the best way to start the program.
Considering that we have so many students from different time zones, the staff team has organized a total of 3 orientations to have students join the most suitable time for them.
Each session has around 30-60 students joining and meeting with the friendly staff team to enhance their understanding of this program.
.
We had Professor Yoshi went through the 10th SIGLOC-online program's structure and purposes in the beginning.
The SIGLOC-online is not only giving us global scope for sustainable issues, but also a great opportunity to have a diverse team to discuss these topics.
.
Instructor Kuniko – Our superstar of the program has introduced everyone to the digital platforms we will be using during the SIGLOC-online.
Technology is extremely important during this time with an online program.
Kuniko patiently answered everyone's questions and explained how to use these tools.
.
There are many kind staff members on board to help with our program experience, this will be a wonderful month for every participant to learn and have fun.
.
Maybe we are not that familiar with everything yet, but let's see how things go in one month!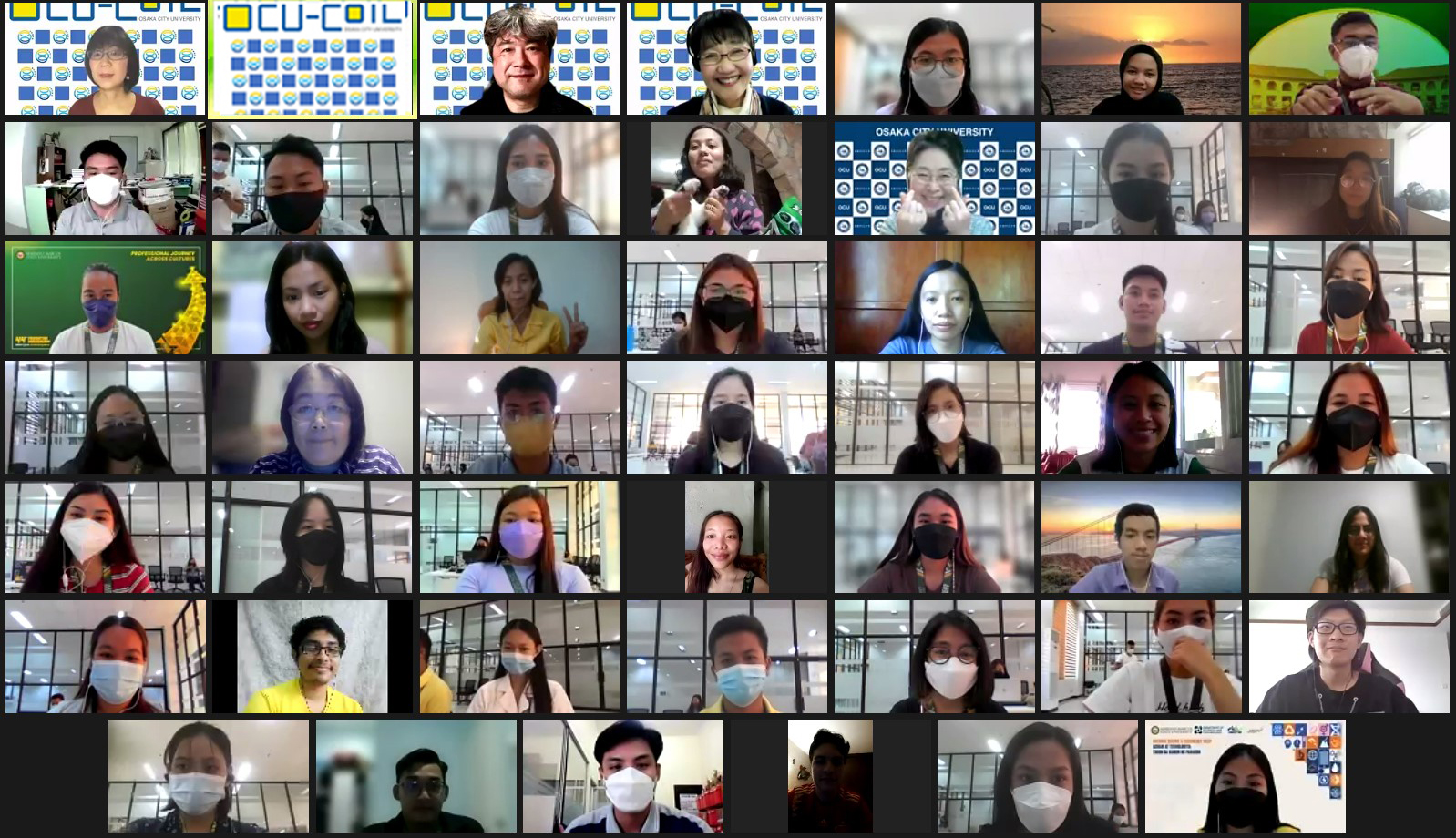 # Welcome Session
Here we are, the first chance to enjoy this intercultural experience with other participants!
.
With three offered sessions like orientation, we get the chance to meet with people who might be the same or different from last time.
We created our self-intro slide in one document and met friends in groups.
We can share our culture and listen to others.
.
During this session, lots of students have made friends who share values and insights.
.
Let's hear what did the students say!
.
.
.
.
It was a shame we have to part away with our new friends at the end of the session, but the journey does not end here.
In fact, it just started!
# First Cultural Activity AU & OCU
Andrews University (AU) and Osaka City University (OCU)'s students were very brave, they were the first ones to collaborate together and host a cultural activity for us!
.
As you read in the name, it is an activity for sharing cultural knowledge with each other.
It's not too late to join the event now, let's go!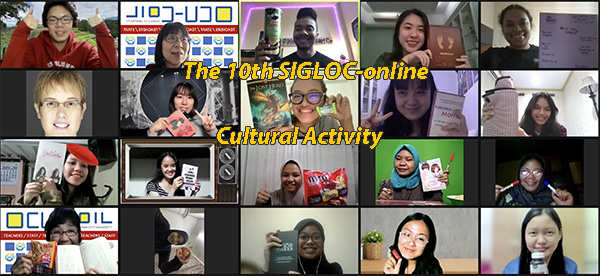 Wow, it was such a memorable day.
Not only that students from early morning and late night time zones pulled this perfectly together, but also the attractive and meaningful content created for the activity.
.
The activity was running in the format of a game show, everyone can type their answers and win the best score.
Through a relaxed and engaging way of delivering cultural information, we believe the students enjoyed the game and the content.
.
So what did the hosts think?
.
.
.
# Session 1 (Debate)
What's the news about our exciting first week?
.
Be prepared for our Session 1 task – Debate!
What a thrilling and lively way to know people's thoughts and opinions.
.
The debate topics are of course relevant to a global view of sustainability.
Students can choose either topic of "Global Supply Chain and Sustainable Society" or "Sustainability and Local Community".
.
We covered all kinds of aspects in our heated debate. Economics, environment, politics……all the way to personal influence towards these topics.
Only the sky is the limit.
Mark's debating comments with his "opponent" Koharu
.
.
# Group Announced!
The big day of announcing group members finally came!
.
You would never guess how your group members are like before you actually meet them.
Don't be nervous, and pack your bags because we are going on a cultural adventure with your group together!
.
A lot of students enjoyed their group experience and successfully presented their projects within time.
It's unique because each team has its own communication, and it's special because it brings different people to seek one agreement.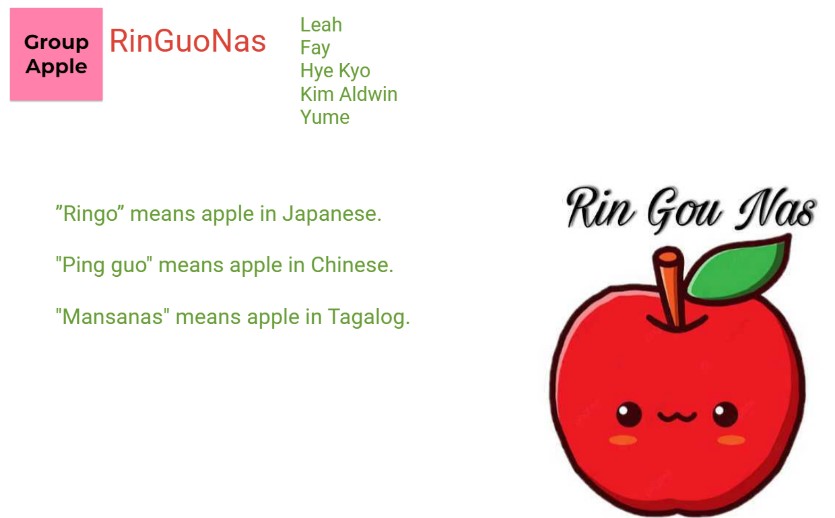 Group 'RinGuoNas' and their logo
Let's hear what did members think about their group:
.
.
.
# Session 2 (Picture Book)
Welcome to our week with the most popular task!
.
Most of the students pick picture books as their favourite tasks, and we can find the reasons together.
.
The picture book is one of the distinctive tasks designed by the SIGLOC-online.
Students are able to communicate ideas with visuals and examples.
With assigned community to investigate and explore, this week the students are aiming to develop their research skills.
.
While the challenge has begun, there is no limitation on the content focus.
The students are encouraged to find their own resources and framework, and then present appealing proposals for their selected communities.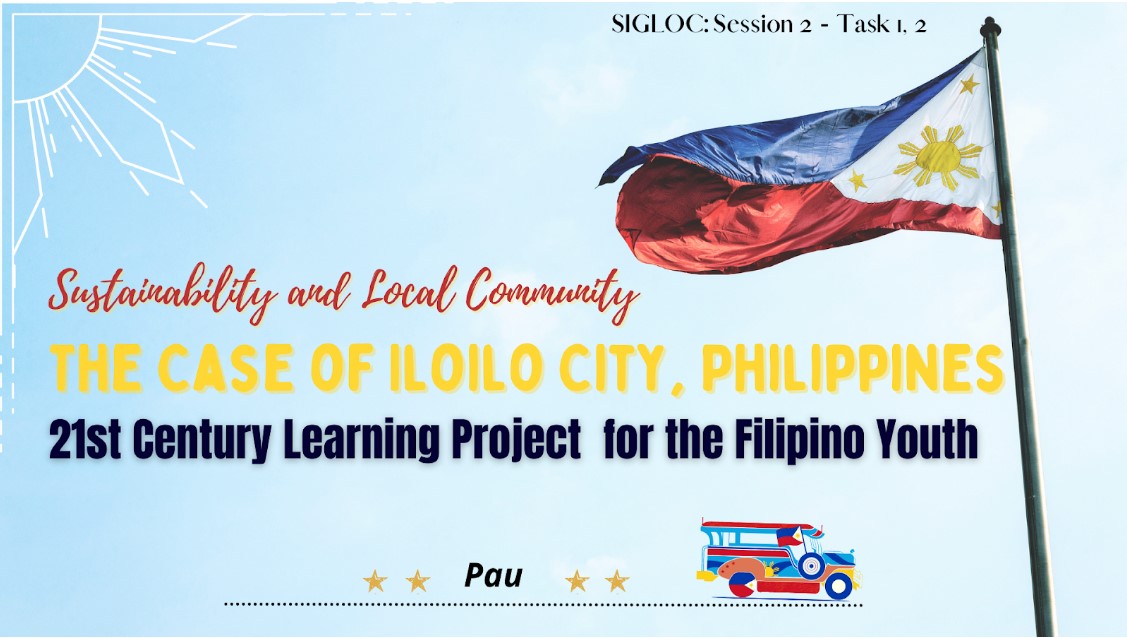 Pau's picture book cover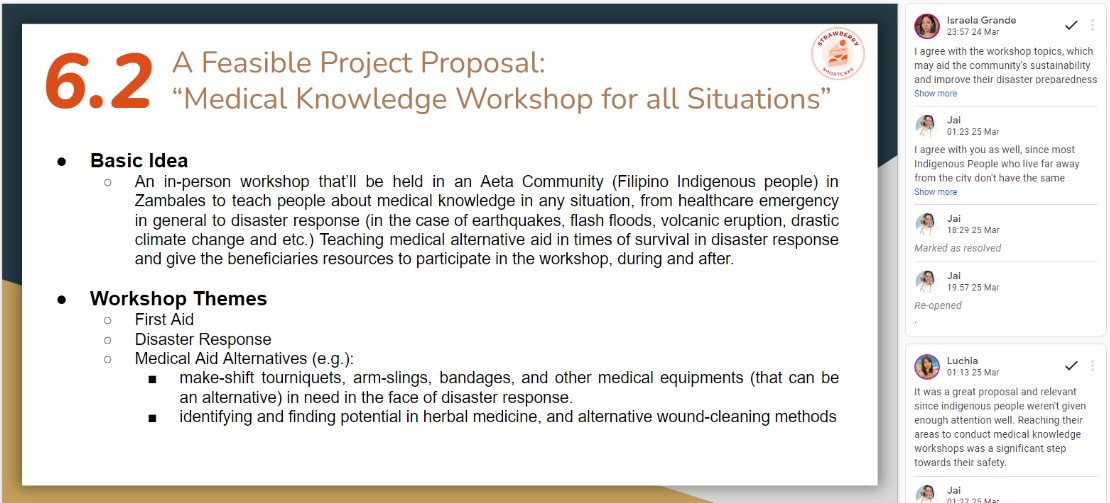 Jai's proposal and discussion with her group members
.
.
# Session 3
First of all, I want to congratulate those students who survived up to the last week!
.
They have put hard work and great effort into this program and I hope they had some valuable experience along the way.
.
We are building our final product and allocating all the data and information in the correct places.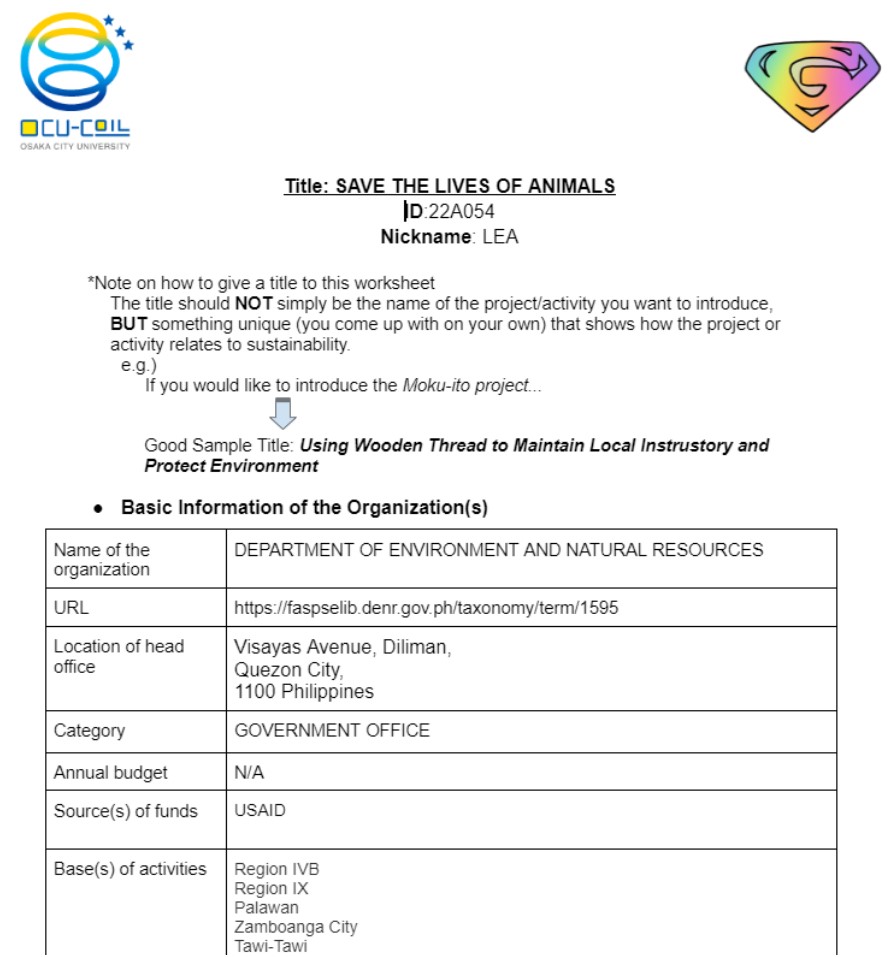 Lea's project information worksheet
Reflection is a tool to summarise one's experience on how to keep advantages and improve insufficiencies.
.
Students are required to write a reflection on their tasks so far so that they can revisit their personal SIGLOC-online experience whenever they can.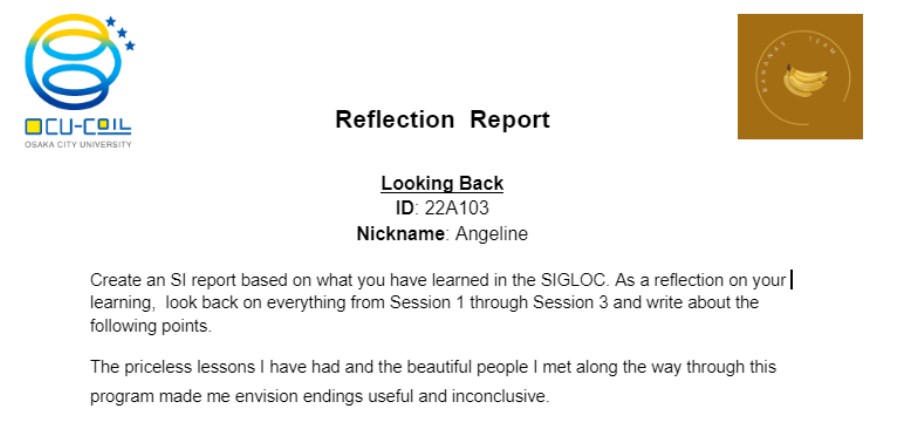 Angeline's reflection report
# Cultural Activities with the groups
Wait, we are not finished yet!
.
Get ready because lots of cultural activities are coming on the way!
.
Apart from the first cultural activity collaborated by Osaka City University and Andrews University, we also had many groups signed up for hosting these events as well!
.
They are passionate to be the bridge for exchanging cultural experiences and enjoyed them just like the participants.
At the end of the day, everyone is satisfied with what they receive from these activities.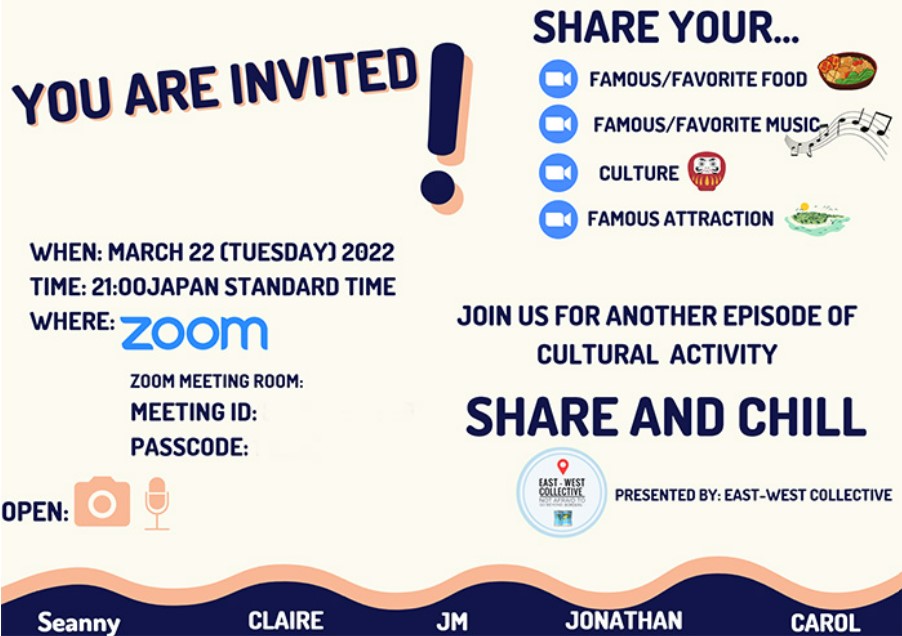 Seanny's group is sending out invitations for their cultural activity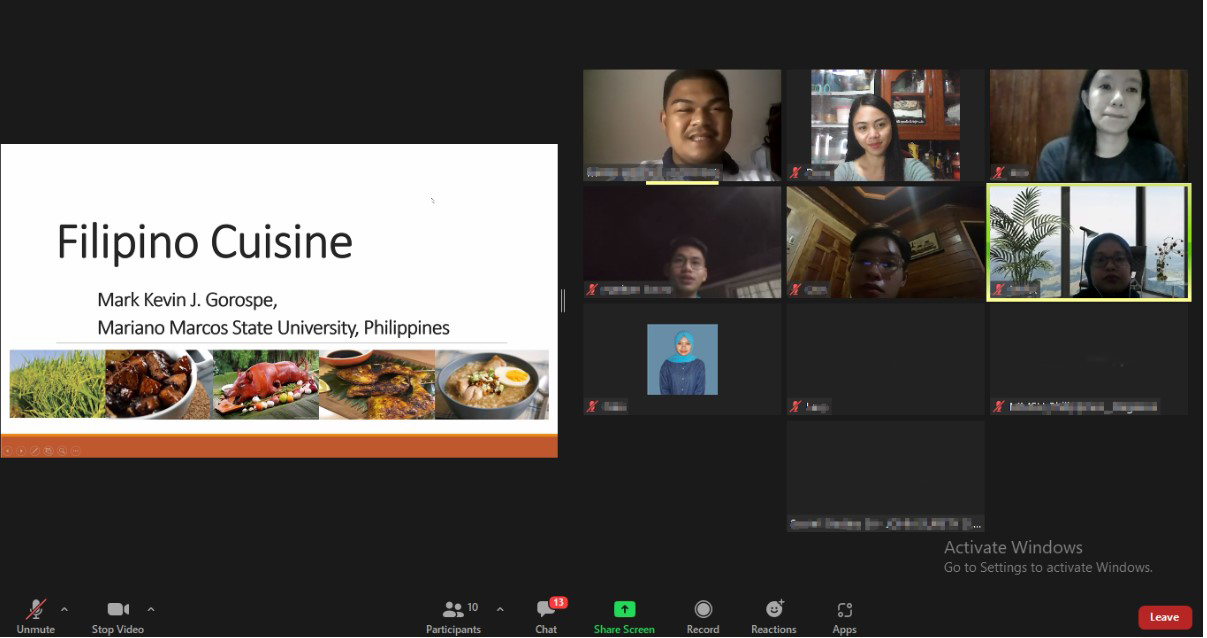 Kevin's group as a host and their cultural activity session
What do the hosts think about the activities?
.
.
.
.
# Final Presentation Day
All the hard work paid off!
.
Today is the day we share our knowledge, research and jubilation.
.
The Final Presentation Day was full of friendly discussion and constant laughter.
Who would have thought we obtained so many things from attending the 10th SIGLOC-online?
.
We will remember this day and all the joy we had during the SIGLOC-online.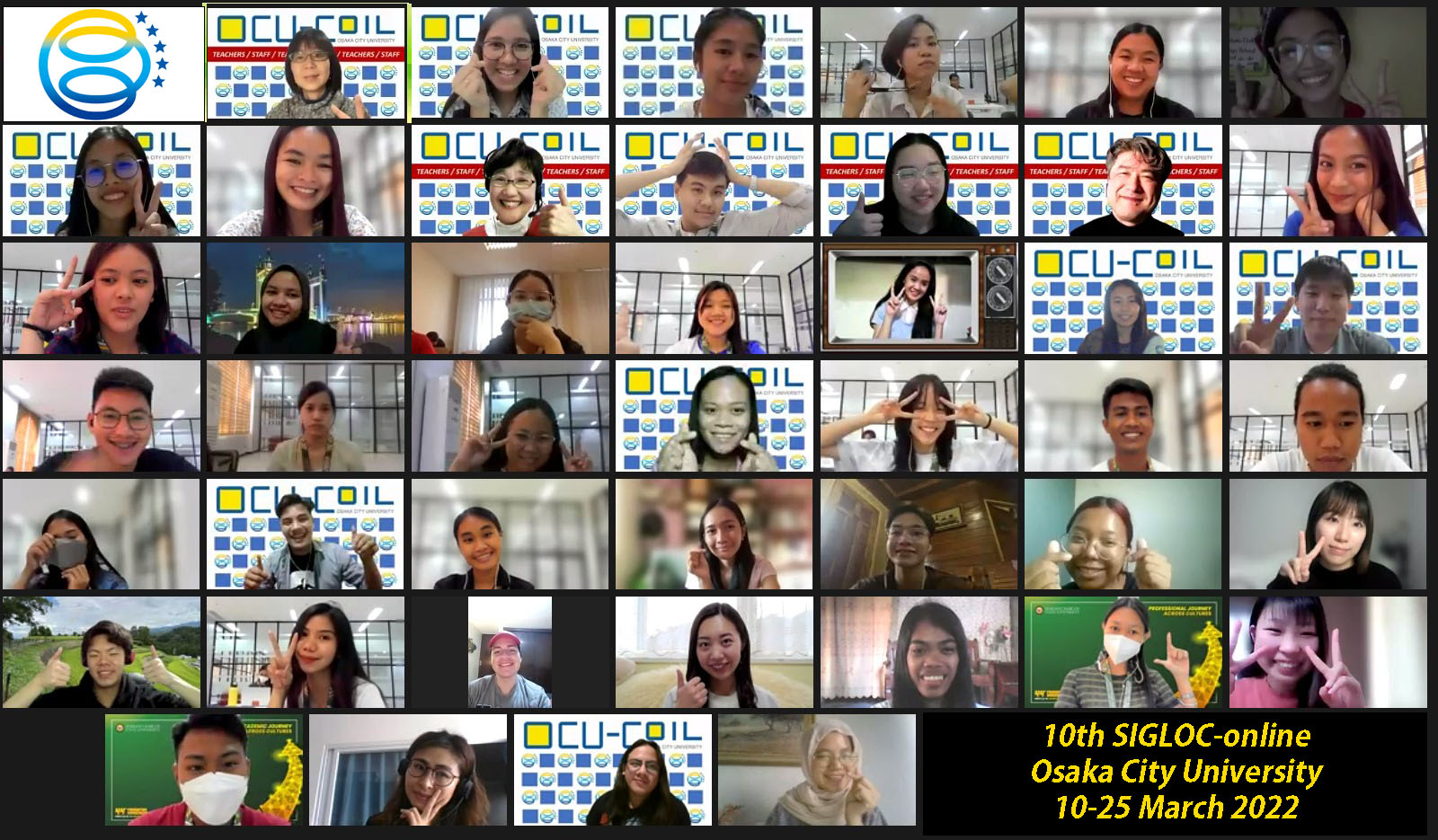 The ideal progress is dividing the whole session's students into breakout rooms, and you will be able to share your project with all the viewers that belong to your breakout room.
.
It's totally random, so we raised another chance for students to meet new friends!
Gladly, some of them did!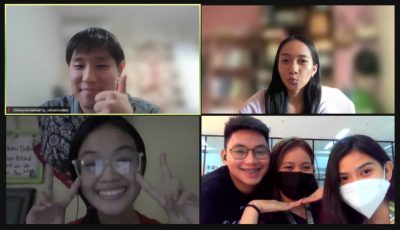 One of the breakout rooms during the final presentation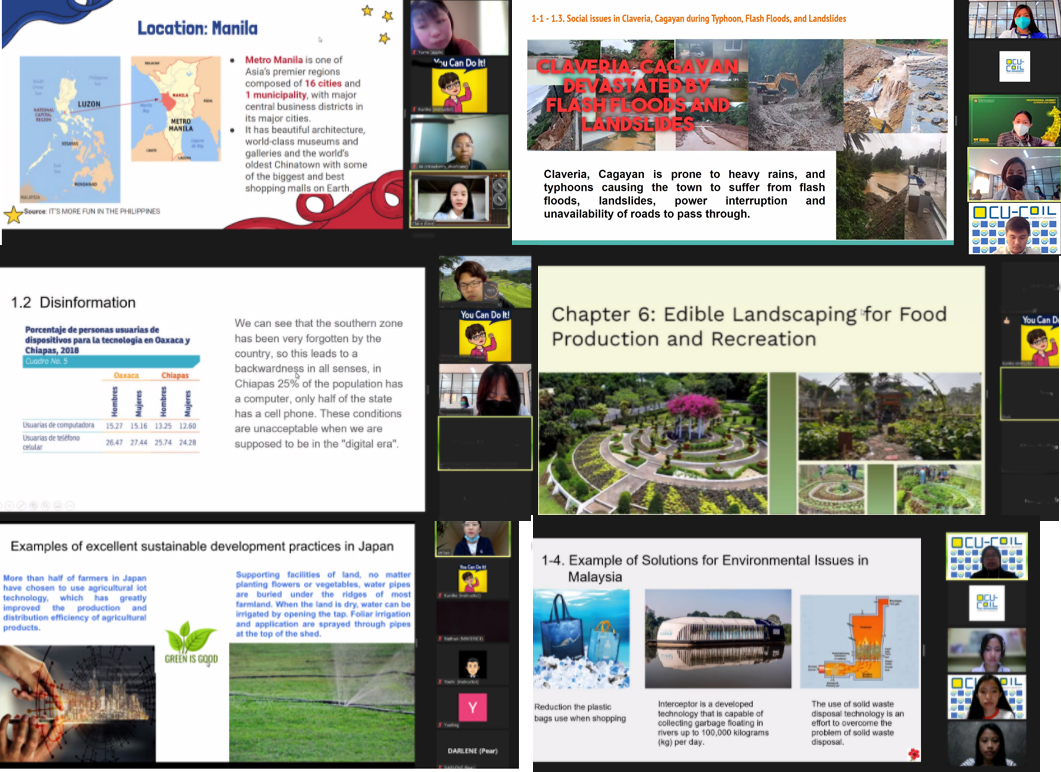 Students are presenting their projects in the breakout room
A few students shared their comments about the presentation day:
.
.
.
# Feedback
We are now coming to the finish line of the 10th SIGLOC-online.
.
It's the time to pick up our complex emotions and be grateful to those who have supported us.
Please remember, today's farewell only means that SIGLOC-online has ended, but not our friendships or treasured memories!
.
For the admin team, we will continue to bring more exhilarating content to future students.
You are always welcome to join us in future SIGLOCs and share your amazing stories with participants.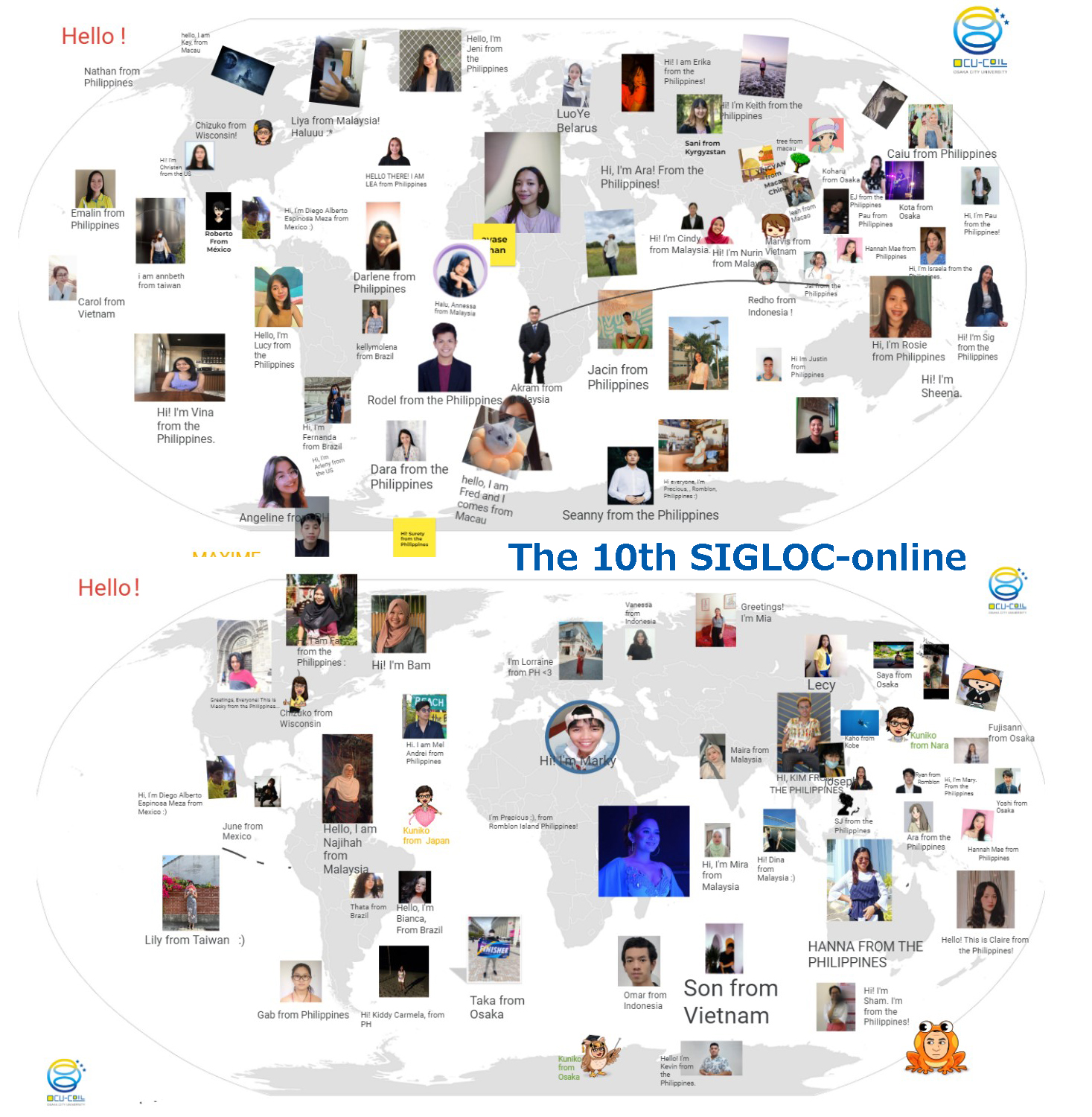 Students from all over the world who participated in the 10th SIGLOC-online
A few students have kindly provided their feedback about the program, let's hear them out:
.
.
.
# Conclusion
Thank you for reading this blog!
.
Maybe next time, I will see you around in the SIGLOC-online, because why not?
.
Please click HERE to read the past SIGLOC-online Reports.
---
COIL Promotion Office,
Osaka Metropolitan University, Japan
Email: gr-las-coil_@omu.ac.jp [ Inquiry form ]
.
*In April 2022, Osaka City University and Osaka Prefecture University united to form the Osaka Metropolitan University (OMU).