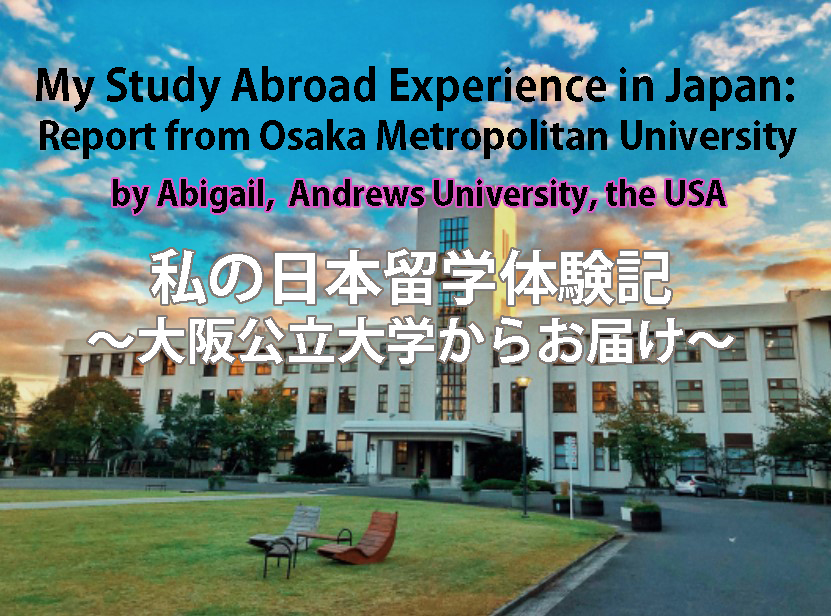 My Study Abroad Experience in Japan: Report from Osaka Metropolitan University by Abby
Hello! My name is Abigail, I am a university student from the United States of America.
.
I studied at Osaka Metropolitan University in Japan for four months, from August 19 until December 19, 2022. I hope this report can provide some insight into the experience of international students.
.
---
Arrival – First Impression of Japan
The first day I arrived in Japan was Friday, August 19.
I was so tired after travelling for over a day, but I was really grateful to finally get to Japan!
.
The first thing I noticed about Japan was on the train from the airport.
I remember looking out the window and thinking 'wow, it really looks like Japan,' because before I came I researched about what misconceptions foreigners have about Japan, and one of the things mentioned was how Japan doesn't actually look like it does in pictures in real life. So when I saw Japan for the first time, I was surprised that the country looked exactly like I thought it would.
.
It was much hotter in Osaka than I thought it would be. I am used to a colder climate so that was difficult for me to adjust to.
.
Japan is also the quietest country I have ever visited.
Some of my Japanese friends here told me that the Kansai region is considered to be louder than the rest of Japan, so I can't even imagine how quiet it is in other places.
.
I thought it would be more difficult to live in a city, since I have always lived in the countryside, but I actually like it a lot. It is so convenient to get to the city centre and go shopping or sightseeing.
.
I think part of the reason is how quiet the Japanese city is, but I also really like to hear the train pass my dormitory. The trains in Japan are so cool. There is no public transportation where I am from so I had never really used it before coming to Japan, but I really enjoy the trains.
.
I definitely made a lot of mistakes with public transportation, but I think just getting to sit on a train and watch the scenery pass by makes up for all the times I missed a train. I think that people who live here are luckier than they know to live in such a beautiful place.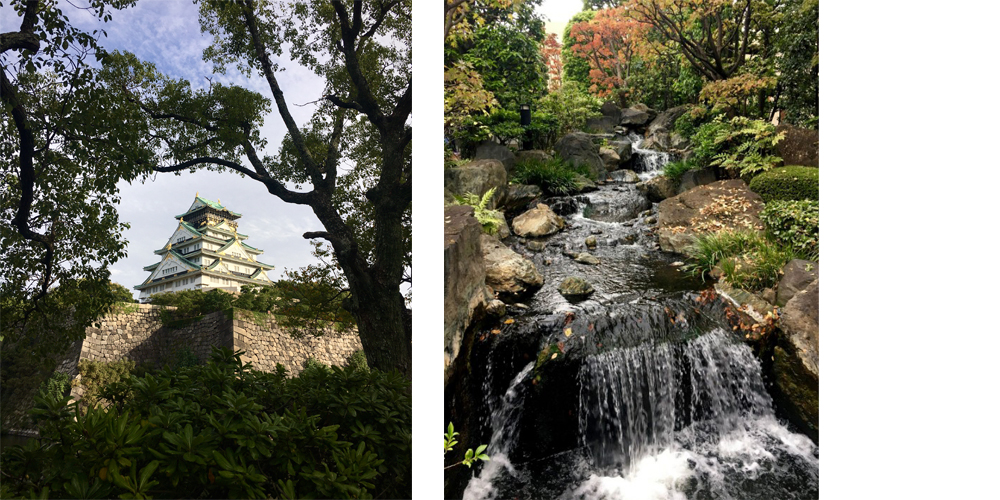 Left photo: Osaka Castle
Right photo: Sensōji Temple grounds, Tokyo
.
Dormitory and Cultural Differences
I also really appreciate living in an international dormitory.
.
I came to Japan, but I have made friends from all over the world here. I am experiencing much more than just the Japanese culture while here. There are so many differences between all of us, but getting to know so many people from so many different cultures has really shown me how much more everyone has in common.
.
.
The Reason Why I Decided to Study in Japan / OMU
I've wanted to study in Japan since my first year of high school, when I discovered study abroad programs during a school assembly. I didn't have a real reason back then, I just thought it would be cool. Ever since then I kept trying, but it never worked out, and then the COVID-19 pandemic hit in my last year of high school so I had almost given up hope of being able to study abroad.
.
I decided to continue looking for programs though because I realised how valuable international experience would be for my career. I mentioned it to my academic advisor when I changed faculties in my first year of university and she told me that there was a partnership with a Japanese university. This was how I joined the exchange program with Osaka Metropolitan University (OMU).
.
.
Preparation I Did before Coming to Japan
Because of the pandemic, it took two years for me to actually come to Japan. At the beginning, I studied Japanese on my own but I didn't make much progress, trying to teach myself. I also researched current Japanese trends, and Osaka itself since I didn't really know anything about Osaka or the Kansai region. I watched some videos about things foreigners should know before coming to Japan, and other international student's experiences in Japan and Osaka, but I didn't want to see too many opinions from other people because I didn't want to have a biassed view.
.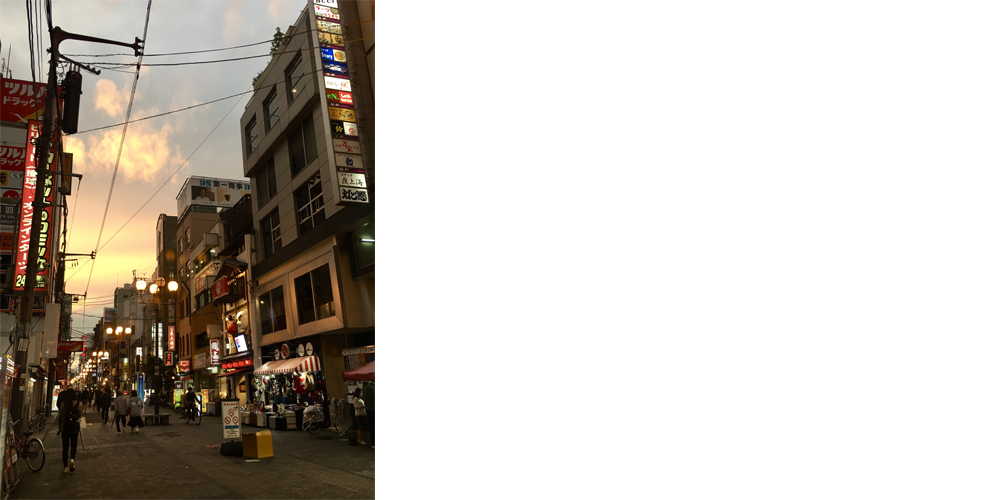 Photo: Dotonbori, Osaka
.
Things I Should Have Brought from the USA
I definitely should have done more research though, because I was completely unprepared for the climate. I thought that it would be much cooler in temperature, so I brought lots of warmer clothes for autumn but the summer weather lasted so long! It didn't get cool until November. I had to buy some clothes for summer because I didn't bring enough. I also had to buy an umbrella. It doesn't rain as often in Osaka as it does at home, but when it does rain it absolutely pours. My rain jacket wasn't enough.
.
There are lots of little differences between Japan and the USA that are tricky to get used to that I didn't even think about.
.
Cars drive on the opposite side of the street, people walk on the opposite side of the sidewalk, grocery bags cost extra, little things like that. It's the mundane habits that are the most difficult to remember, I think, because who thinks about what side of the sidewalk people will walk on? I certainly didn't, until I kept almost running into people. I guess it's lucky that Japanese people are very polite, because everyone was very kind about mistakes I made.
.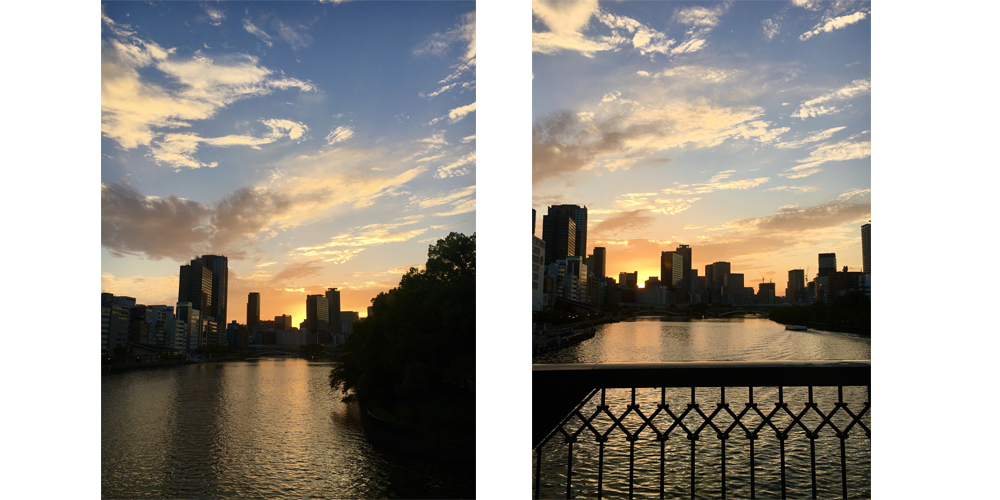 Photo: Kyu-Yodo-Temmabashi, Osaka
.
.
OMU and OMU Campus
Taking a train to school has been a really novel experience for me, especially at the beginning of my studies during the summer courses. I've actually found it to be fun during the regular semester when there are so many other students on the train as well.
.
The OMU Sugimoto campus is larger than my home university so it was a bit tricky to find my way around at first, but I was able to learn my way around quickly.
.
My favourite place in the Sugimoto campus is the roof of the library. There is a nice garden and benches, and the view is incredible. Having multiple campuses for one university was another new experience for me.
.
I've been taking one class at the OMU Nakamozu campus, and that campus is also really nice. It was fun to be able to compare the two.
.



Left photo: The view from the roof of the library at Sumiyoshi campus, OMU
Middle photo: Nakamozu campus, OMU
Right photo: Street across from Nakamozu campus, OMU
.
Classes and Programs
The Social Innovation Courses have been a different experience than any other classes I've taken in university before. My usual area of study is graphic design and fine art, so the social innovation program was completely new to me. The courses introduced me to a lot of concepts that I hadn't previously encountered, such as sustainable development goals and project cycle management.
.
Being able to use what we learned in the classroom in actual fieldwork was a fantastic experience, and helped me to understand the purpose of our projects and lectures much deeper than I would have been able to.
.
Learning about something from a lecture is good, and the technical knowledge is vital, but I think that for me the true understanding of the concept of social innovation comes from working with people in the field— hearing their stories and seeing what they do first hand. Hands on work fosters a much deeper understanding and connection between the team members as well.
.



Left photo: Beach in Hannan city, Osaka
Right photo: Field in Hannan city, Osaka
.
I've definitely learned a lot, not only about social innovation but also teamwork. I think that the most valuable experience I have gained from the SIGLOC program going forward is the ability to work in a multinational, multidisciplinary team. In our class we had students from several different fields of study and different cultures, but we were all able to use our individual strengths and knowledge bases together to work on the projects. That kind of collaboration is a really special, rare opportunity for most university students, and what I learned is invaluable.
.
The Virtual Language Tables program really helped me improve my Japanese, because it was a lot more comfortable for me to practise speaking with other students who are my own age than it was in the classroom with the professors.I had not been able to speak Japanese to native speakers before, so I was unsure whether my accent and pronunciation was understandable.
From talking with the other students, I learned a lot more about actually using the language in conversation.
.
.
How I Spend Weekends
Osaka is a really good place to study because there is so much in Osaka, but it also has a very central location that makes it easy to visit other places in the Kansai region. From Osaka I've been able to go to Nara, Kyoto, Kobe, and other places. I have even gone as far as Awaji Island and Hikone on Lake Biwa. Because I have only five months of study in Japan I have been trying to see as much as I can while I'm here.
.
So far my favourite trips have been Nara, Arashiyama, and Hikone.
In Nara I visited the Kasuga-Taisha shrine and Kofuku-ji temple. I thought people were exaggerating about the deer in Nara but they were so friendly!
.
I went to Arashiyama with my friends from the COIL program to wear kimonos and see the autumn colours. It was really beautiful. I was surprised by how comfortable the kimono was, but walking was definitely tricky, especially in the bamboo forest.
.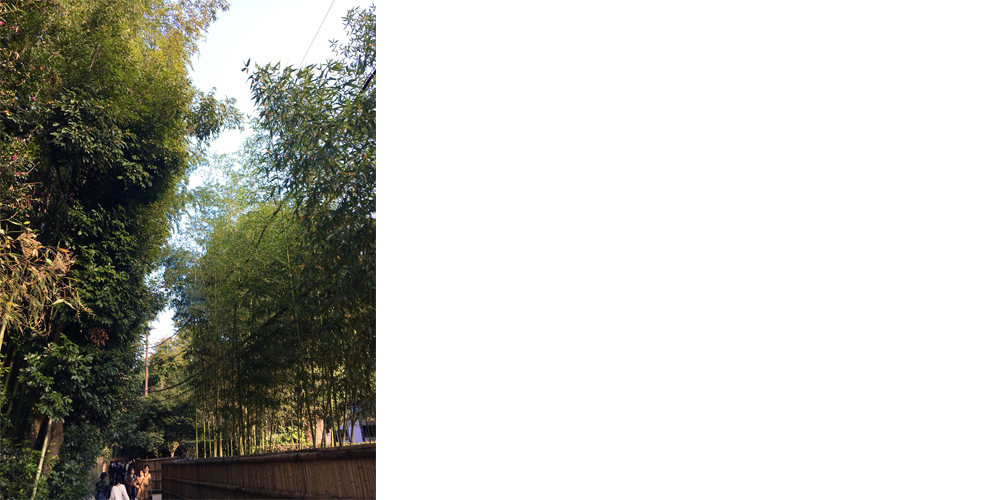 Photo: Bamboo forest, Kyoto
.
Hikone was really cool because Hikone Castle is still the original castle, and it's open to the public. I was able to go all the way to the top of the castle and look out over Lake Biwa. It was an amazing view.
.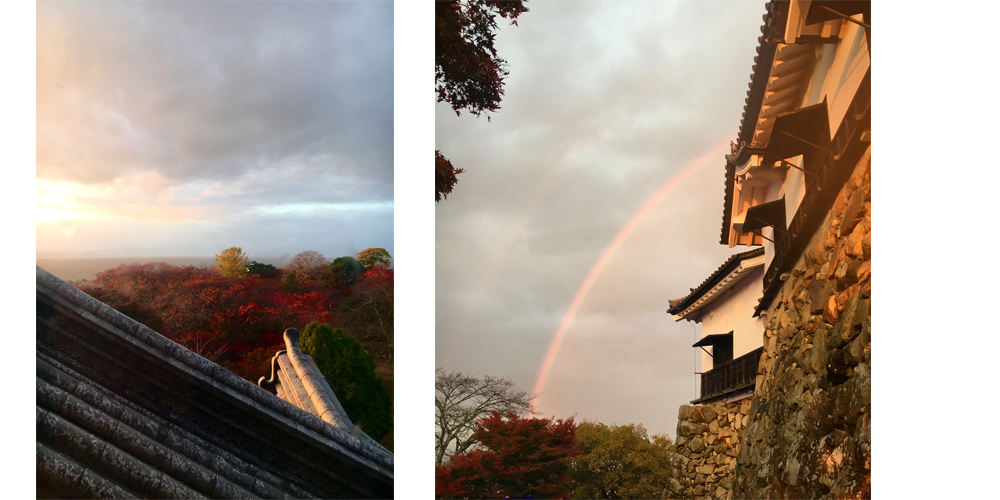 Left photo: Lake Biwa, Hikone, Shiga
Right photo: Rainbow, Hikone, Shiga
.
.
Festivals and Events
At the beginning of September I was able to go to a festival near our dormitory with some of the other international students. It was my first experience at a Japanese festival, and it was so much fun! There were so many things to see and try. The blend of modern and traditional Japan was really present in the festival.
.
I also celebrated the moon festival for the first time in Japan. Since it doesn't exist in the cultures I grew up in, I really appreciated the opportunity to experience another culture's traditions first hand as I learned about them. I found it so interesting, especially since I got to learn the Japanese traditions as well as the Chinese traditions from some of the other foreign students. The tsukimi dango* and mooncakes are both really tasty!
.
*White plain rice dumplings to celebrate the Japanese mid-autumn festival.
.
Just being in Japan and being able to study here has been incredible, but I've been so lucky to also make so many friends who are willing to share so much more of their culture with me than I can learn in classes.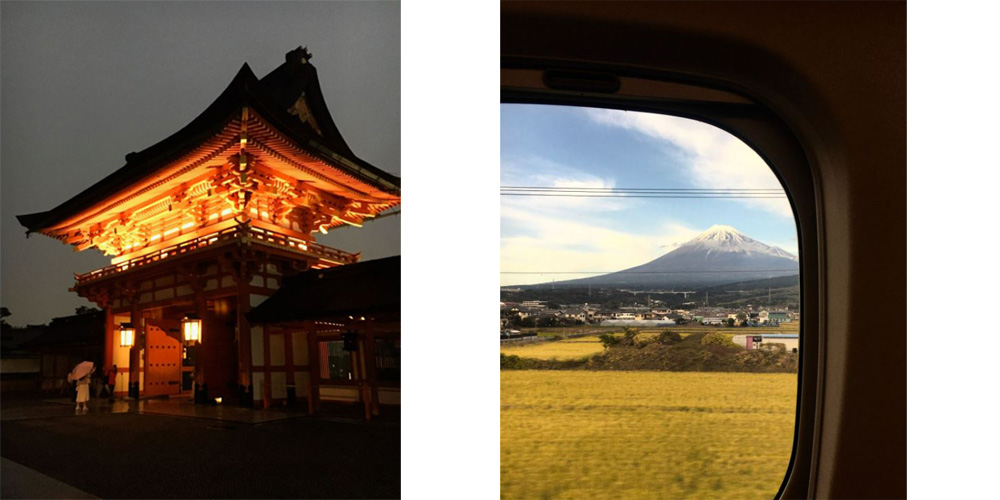 Left photo: Fushimi Inari Taisha, Kyoto
Right photo: Mount Fuji
.
Final Thoughts and Reflections
Participating in the exchange program between Andrews University and Osaka Metropolitan University fulfilled a dream of mine that I had for a long time. I am grateful to have been able to study and experience Japan; as I was able to learn so much about Japan and its amazing culture and history.
.
The intercultural collaboration in the COIL program definitely fostered a greater understanding of the cultural context involved in social issues. While discovering social issues has been an interest of mine for years, partially due to my minority status in my own country, in depth analysis of social issues in the context of cultures other than my own was a new experience for me. This change of direction — from being a passive reader to an active researcher — has shifted my perspective to be solution-oriented when looking at social problems. In the future, I will be able to analyse and think more critically about the problems and solutions I encounter, with a greater understanding of the interconnectedness of social problems from the individual to global scale.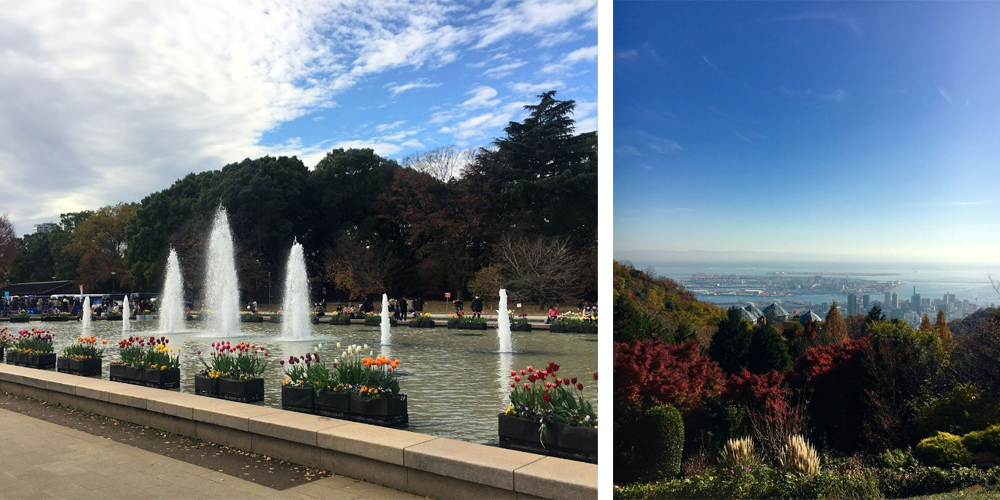 Left photo: Fountain in Tokyo
Right photo: View of Kobe
Studying abroad helped me not only understand other cultures better but also understand my own culture. It can be difficult to examine our own cultures when we are living in them, and in another country helped me look at my own country from a different perspective. In learning how my culture is perceived by other people, I learned more about myself.
.
Living in a foreign country was not something I was sure I could do, and I certainly could not have done it alone. I'm very thankful to everyone I met at OMU for supporting me. Being able to join a community like OMU was an incredible experience. I felt welcomed, and even though I only studied there for a few months, Osaka Metropolitan University and the friends I made there really made me feel like I belonged. Osaka Metropolitan University will always be very special to me, and I am looking forward to a time when I can meet my Japanese friends again!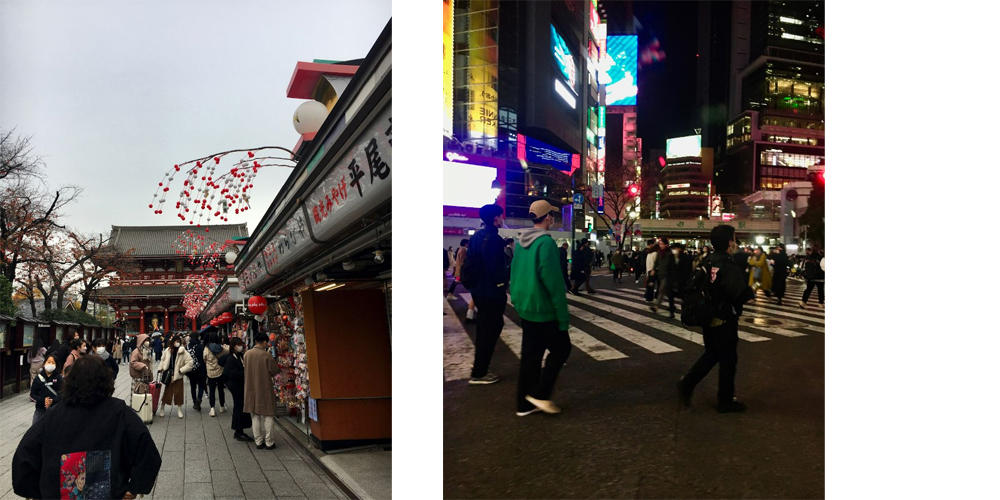 Left photo: Street in Asakusa, Tokyo
Right photo: Shibuya crossing